Canon launces PowerShot A480 digital camera on the US marked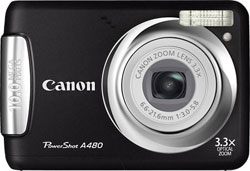 Canon PowerShot A480
Canon has announced that they are releasing the Canon PowerShot A480 compact digital camera on the US marked. This camera was unveiled in Europe about a month ago and now Canon think it will fit on the American marked too.
Some key features for the Canon PowerShot A480:
-10 megapixel sensor
-3.3x optical zoom
-2.5″ LCD screen
-Face detection
-Motion detection
The Canon PowerShot A480 will be available on the US marked in March 2009 and cost about $130.