Canon brings PowerShot SX1 IS to the US marked and adds RAW file compatibility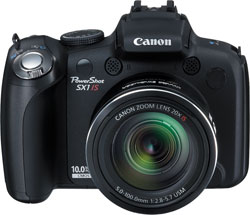 Canon PowerShot SX1 IS
Canon has announced that they are releasing the Canon PowerShot SX1 IS compact digital camera on the US marked. In addition they upgrading the firmware in the camera so it is able to capture RAW files.
Some key features for the Canon PowerShot SX1 IS:
-1080p (1,920 x 1080 pixel) movies at 30 frames per second
-2.8″ 16:9 wide-aspect screen
-10 megapixel sensor
-20x optical zoom lens (28 – 560mm)
The Canon PowerShot SX1 IS will be available in US in April 2009 and cost about $600.

Press release:
Ultimate image control: RAW shooting arrives for
the PowerShot SX1 IS
Amstelveen, The Netherlands, 18 February 2009: Canon announces an exciting add-on for its celebrated PowerShot SX1 IS digital compact camera: firmware that allows users to capture images in RAW format.
Owners of the PowerShot SX1 IS will be able to download a firmware update which gives them the option of shooting images in high-detail, unprocessed RAW format. This is ideal for photographers seeking control over key image parameters after they shoot – rather than before.
Plus, for powerful, intuitive post-production, users of the PowerShot SX1 IS can also download Canon's Digital Photo Professional software. This high-speed RAW editor lets users adjust key settings, such as white balance, exposure compensation and sharpness before conversion to JPEG.
The firmware will be available for download from mid-March. PowerShot SX1 IS owners should check http://web.canon.jp/imaging/BeBit-e.html for information and availability. Digital Photo Professional will also be available to download from the Canon BeBit site.