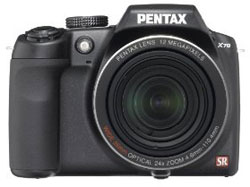 Pentax X70
Digital Camera Review has reviewed the ultrazoom compact digital camera Pentax X70. This Pentax camera features a 24x optical zoom lens and 12 megapixels.
Some key features for the Pentax X70:
-24x optical zoom lens (26-624mm)
-12 megapixel sensor
-2.7″ LCD screen
-triple shake reduction
-Super Macro Mode for getting as close as 1 cm
-HD video at 1280×720 at 15 frames per second
Digital Camera Review ends up giving the Pentax X70 a pretty good review as you get a lot of zoom range for the money. The camera is able to compete well with other ultrazoom cameras, can produce pictures of good quality and is good in low light situations. The only downsides are poor HD video quality, a bit slow auto focus and no RAW file support.
Overall the X70 seems like a fine compact camera if you are not interested in investing in a DSLR camera.
Read the full review of the Pentax X70 camera here.