Kodak Zx1 HD camcorder review / test by Digital Camera Review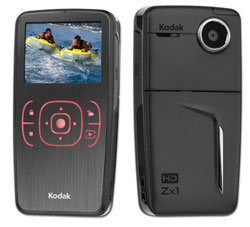 Kodak Zx1 HD camcorder
Digital Camera Review has reviewed the Kodak Zx1 HD camcorder. This interesting camcorder has a weather-resistant design making it good for outdoor recording where the conditions are though.
Some key features for the Kodak Zx1 HD camcorder:
-720p HD video capture at 60fps or 30fps
-2.0-inch LCD screen
-Weather resistant design
-Easy to upload to Youtube
-Available in five colors: black, red, pink, blue and yellow
Digital Camera Review ends up giving the Kodak Zx1 HD camcorder a pretty good rating as the camera is pretty cheap (around $150) and you get a good deal of features for the bucks like weather sealing, HD-video and nice design. The only downsides are not top notch video quality, not very intuitive controls and the zoom creates a popping sound. Overall the Kodak Zx1 seems like a nice HD camcorder if you need to record video under harsh weather conditions.
Read the full review of the Kodak Zx1 HD camcorder here.

Comments