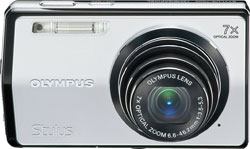 Olympus Stylus-7000 / mju 9000
Today Olympus announced the new Stylus-7000 (called mju 7000 in Europe) digital camera. The camera contains a 12 megapixel sensor, 7x optical zoom lens (compared to 10x on the Stylus-9000) and much more.
Some key features for the Olympus Stylus-7000:
-12 megapixel sensor
-7x optical zoom lens (37-260mm)
-3″ LCD screen
The Olympus Stylus-7000 will be available in February 2009 for about $300.

Press release:
Beautiful cameras for beautiful photographs
Power and elegance combined
London, 7 January 2009 – The popular Olympus µ series is once again setting the standard for cameras that combine graceful design with practical innovative features. Confirming Olympus' status as the leading developer of opto-digital technology, the new models feature compact optical zooms, with magnifications ranging from 5x in the µ-5000, 7x in the µ-7000, to an incredible 10x in the µ-9000. All three cameras feature 12 Megapixel CCDs and a host of features that guarantee brilliant results, including Dual Image Stabilisation to reduce the effect of camera shake, and a remarkable Beauty Mode that smoothes out the completions of people, knocking years of their age! With sleek metal bodies in a range of colours, the Olympus µ-5000 will be available at the end of January, while the µ-9000 and µ-7000 in stores mid February 2009.
µ-9000
Hidden inside its super-slim metal body the µ-9000 has a wide 10x optical zoom (28-280mm*) that's powerful enough to capture wide, open landscapes and then zoom in to closely scrutinise details on the horizon. Of course the µ-9000 is great for photographing people too. Face Detection Technology identifies up to three human faces in a photo, then focuses and sets the exposure so that they look their best, and the wide viewing angles of the bright 6.9cm/2.7" HyperCrystal III LCD make framing photos easy even in bright sunlight and at awkward angles. The µ-9000 will be available in Midnight Black and Royal Blue versions.
As with the other two new additions to the "classic" µ series, the µ-9000 includes Dual Image Stabilisation. This reduces blur caused by camera shake by minutely adjusting the position of their 12 Megapixel CCDs to compensate for inadvertent camera movement, and uses higher ISO values to ensure faster shutter speeds.
µ-7000
The µ-7000 is the happy choice for photographers who like taking photos of their family and friends. Its versatile 7x optical zoom (37-260mm*) is great for group shots and portraits and with Advanced Face Detection, up to 16 faces can be automatically identified in single photo. For the happiest results of all though, select Smile Shot and the µ-7000 will even detect when subjects are smiling and take the photo at just the right moment. A huge 7.6cm/3.0" HyperCrystal II LCD makes framing photos a doddle and allows everyone to see their picture at the same time. The µ-7000 comes in three colours: Starry Silver, Midnight Black and Ocean Blue.
µ-5000
With its 5x optical zoom (36-180mm*), the µ-5000 is the perfect choice for flexible, high-performance photography. In common with the µ-9000 and µ-7000, this stylish camera has Perfect Shot Preview which allows changes to various settings to be viewed next to one another in a multi-frame window on the 6.9cm/2.7" HyperCrystal II LCD, so a comparison can be made and the best option selected before the photo is taken. The µ-5000 also has Perfect Fix; this handy function corrects red-eyes and dark shadowy areas in photos that have already been taken. The ultra-slim µ-5000 is available in a choice of Metal Magenta, Atlantic Blue or Midnight Black.
People will love having their photos taken by these sleek and sexy cameras, as µ-9000, µ-7000 and µ-5000 all feature a new Beauty Mode that smoothes out imperfections in the subject's skin as the photo is taken, for a flawless-looking complexion that knocks years off their age.
The new models have a number of other common features too, including Intelligent Auto Mode, which automatically identifies which of five often-encountered types of scenes the photo being taken matches. In-Camera Panorama Mode is also included so that sequential photos can be combined in-camera to create dramatic wide panorama photographs.
Handling and navigation on the new cameras is easy thanks to illuminated buttons and all models are compatible with xD-Picture Cards and microSD Cards**. The Olympus µ-5000 will be on sale from the end of January, while the µ-9000 and µ-7000 will become available in mid February 2009.
The Olympus µ-9000 – main features:
* Extra slim 10x wide optical zoom (28-280mm*) in a compact metal body to capture landscapes through to exciting close-ups
* Avoids blur thanks to Dual Image Stabilisation (combines mechanical and digital image stabiliser)
* The easy way to perfect images – Intelligent Auto Mode detects the five most commonly used scenes and adjusts settings, focus and exposure automatically
* 12 Megapixels to make prints up to poster-size
* 6.9cm/2.7″ HyperCrystal III LCD for best ever preview even in brilliant sunlight and at extreme angles (230,000 dots)
* Face Detection for perfectly focused and exposed faces. In combination with Shadow Adjustment Technology other main parts of the picture are also correctly exposed.
* TruePic III image processor for faster image handling and higher image quality
* Liven up your memories with movie recording with sound (up to VGA resolution at 30fps) xD-Picture Card and microSD Card** compatible
The Olympus µ-7000 – main features:
* Exceptional 7x optical zoom (37-260mm*) in a compact metal body to capture landscapes through to exciting close-ups
* Avoids blur thanks to Dual Image Stabilisation (combines mechanical and digital image stabiliser)
* High-Definition Multimedia Interface (HDMI™) technology incorporated for viewing images in high definition on HDMI TVs
* 7.6cm/3.0" HyperCrystal II LCD for excellent preview even in bright sunlight and at extreme angles (230,000 dots)
* 12 Megapixels to make prints up to poster-size
* The easy way to perfect images – Intelligent Auto Mode detects the five most commonly used scenes and adjusts settings, focus and exposure automatically
* Advanced Face Detection of up to 16 persons for perfectly focused and exposed faces. In combination with Shadow Adjustment Technology other main parts of the picture are also correctly exposed.
* TruePic III image processor for faster image handling and higher image quality
* Liven up your memories with movie recording with sound (up to VGA resolution at 30fps)
* xD-Picture Card and microSD Card**compatible
The Olympus µ-5000 – main features:
* Excellent 5x optical zoom (36-180mm*) in a smart metallic body to capture landscapes through to exciting close-ups
* Avoids blur thanks to Dual Image Stabilisation (combines mechanical and digital image stabiliser)
* The easy way to perfect images – Intelligent Auto Mode detects the five most commonly used scenes and adjusts settings, focus and exposure automatically
* 12 Megapixels to make prints up to poster-size
* Advanced Face Detection of up to 16 persons for perfectly focused and exposed faces. In combination with Shadow Adjustment Technology other main parts of the picture are also correctly exposed.
* 6.9cm/2.7" HyperCrystal II LCD with a bright display even in bright sunlight and at extreme angles (230,000 dots)
* TruePic III image processor for faster image handling and higher image quality
* Liven up your memories with movie recording with sound (up to VGA resolution at 30fps)
* xD-Picture Card and microSD Card** compatible