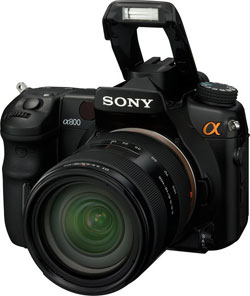 Sony Alpha 800
There has been some rumors going around the internet about a new Sony Alpha 800 DSLR camera. Nothing has been confirmed by Sony, but the rumors say that the camera will have a 15.2 megapixel sensor, design similar to the A700, ISO sensitivity from 100 to 12800, 23 auto focus points and built in WiFi.
The PMA 2009 is not far away so we will soon see if there is any truth in the rumors.
From the forums on dpreview.com there seem the be two sets of specifications for the Sony Alpha 800. You decide which are more likely.
Specs 1:
* body design similar to A700
* 100% OVF (pentaprism bigger than A700)
* 15.2Mp APS-C CMOS
* ISO 200-6400 expandable to 100 & 12800
* Quick LV
* flippable back LCD
* 6.5 frame per second
* New high speed flash sync
* 9 double cross f/2.8 AF sensor (23 total AF sensor)
* New metering and AF sensor with tracking and previous focus
* Dual AF Ultra-Speed motor ??
* Wi-Fi built-in
* Dual memory card slot CF & MS
* New battery
* A700 grip will be compatible
* micro AF adjustment
* full function eyestarter (pre-focus)
Specs 2:
* 15.2Mpx APS-C CMOS Exmor "R" sensor
* ISO 100-12.800
* 6.5 frame per second
* New high speed flash sync
* 9 double cross f/2.8 AF sensor (23 total AF sensor)
* New metering and AF sensor with tracking and previous focus
* Dual AF Ultr-Speed motor ??
* Wi-Fi built-in