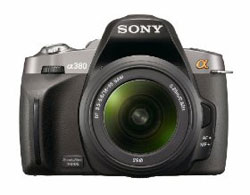 Sony Alpha 380
Lets Go Digital has tested the Sony Alpha 380 DSLR camera. This camera is pretty user-friendly and is targeted at the entry level marked.
Some key features for the Sony Alpha 380 DSLR:
-14.2 megapixel image sensor
-built in image stabilization
-2.7″ LCD screen that is tiltable
-Eye-Start Autofocus
-supports memory sticks and SD/SDHC memory cards
-Live View
Lets Go Digital ends up giving the Sony Alpha 380 DSLR camera a "Recommended 80%" rating. The image quality has been slightly improved over the previous Sony camera in this class. A downside is that the battery life is a bit short.
Overall this seems like a nice entry level DSLR, but if you own the Alpha 350 this new camera might not be worth the price.
Read the full review of the Sony Alpha 380 here.