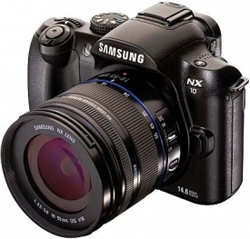 Samsung NX10
Photography Blog has reviewed the new Samsung NX10 mirror-less compact digital camera. This Samsung camera is a strong competitor to the Mirco Four Thirds cameras from Panasonic and Olympus as it uses a larger sensor and have crammed more megapixels into the sensor (14.6 megapixels).
Some key features for the Samsung NX10:
-14.6 megapixel APS-C sized CMOS sensor
-Mirror-less compact digital camera
-720P movie capture
-3″ AMOLED screen
-921k Electronic Viewfinder
Photography Blog ends up giving the Samsung NX10 a "Highly Recommended" rating with an overall score of 4.5 out of 5 stars. The NX10 scores highest on image quality and value with a perfect score. It also scores high on design while scoring a bit lower on ease of use and features. According to Photography Blog Samsung has made a winner especially when you look at the price tag and image quality, but I'm a bit disappointed in the traditional DSLR-look that they chose for their new format. Nevertheless it is great to see more camera companies starting to produce mirror-less cameras.
Read the full review of the Samsung NX10 mirror-less compact digital camera here.