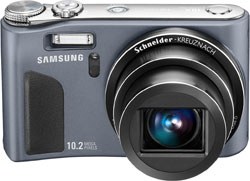 Samsung HZ10W
Samsung has announced the new HZ10W digital camera with a wide angle 10x optical zoom lens starting at 24mm. The camera also got a 10.2 megapixel sensor and is able to record HD video.
Some key features for the Samsung HZ10W:
-10.2 megapixel sensor
-10x optical zoom lens (24-240mm)
-2.7″ LCD screen
-ISO sensitivity from 80 to 1600
-HD 720p MPEG-4 video
The Samsung HZ10W camera will be available from January 2009 for about $299.99.

Press release:
Samsung Introduces 24mm Ultra-Wide Angle Mega-Zoom
New HZ10W Offers HD Video and Addresses Need for Wider Focal Length and Longer Zoom
LAS VEGAS, N.V., January 7, 2009 – Samsung's new HZ10W is a compact, 10.2 mega-pixel digital camera that takes wide-angle to a new level. Featuring an ultra-wide angle 24mm Schneider lens, the HZ10W goes beyond the 28mm wide-angle focal length offered by other manufacturers while adding a powerful 10x optical zoom with telephoto capabilities of 240mm (35mm film equivalent).
Opportunities to enhance one's creativity thrive thanks to the wider focal length offered by the HZ10W's ultra-wide angle, 24mm lens. With the ability to fit more of a desired scene into the shot, users no longer have to worry about asking a group of people to stand closer together to make sure everyone is in the photo. Users can also capture even more impressive landscape images, communicating the full beauty of a mountain range or even cityscape, as they see it, without having to decide what to exclude when pressing the shutter button.
The HZ10W's 240mm (35mm film equivalent) telephoto zoom also allows users to be more creative and flexible when they shoot, adding peace of mind knowing that they can rely on the camera to help them capture the image they want, at any distance. Such a long zoom is ideal for sporting events, especially when far away from the action, or travel, when unable to determine what shooting scenario you may find yourself in. For added stability and blur-free images, especially when using the HZ10W at its maximum zoom, Samsung has incorporated both Optical and Digital Image Stabilization. The shooter has the option of simply using Optical Image Stabilization to help reduce blur caused by hand shake, ideal for well-lit environments, or choosing Dual Image Stabilization and combining the strengths of Optical and Digital Image Stabilization. Dual Image Stabilization is ideal for low-light environments where the use of a flash is not desired as it activates both forms of stabilization simultaneously.
For shooters who wish to be in more control when it comes to taking digital images, the HZ10W offers a host of manual controls. Users can manually configure shutter speed, from 16 ~ 1/1,500 seconds, as well as adjust focus and aperture settings. Users can also dial in exposure in 1/3EV steps at a maximum of ±2EV and select a desired ISO value with options of 80, 100, 200, 400, 800, 1600, and even 3200 at a reduced resolution of three mega-pixels.
The HZ10W also incorporates Samsung's proprietary Smart Album program. Smart Album is useful tool which allows users to search through the various files they have saved on their memory card for a specific image. Smart Album automatically organizes the user's digital images and gives them the ability to narrow their search based on the date or month the image was taken, the file type, whether it's a photo, video, or voice memo, and the overall color tone.
"The mega-zoom HZ10W is one of the most feature-rich digital cameras in Samsung's wide-ranging family of digital imaging products," said Tony Sorice, vice president of Sales and Marketing for Digital Imaging, at Samsung Electronics America. "The camera addresses demands in the marketplace, not only for longer zooms, but for wider focal lengths as well. Such powerful optics, combined with other advanced features like the ability to record HD video, will undoubtedly make the HZ10W an attractive model for anyone in the market for a new digital camera."
The HZ10W gives shooters the ability to capture video in 720p high-definition at 30 frames-per-second (fps). Thanks to H.264 compression, users can record video for longer periods of time, allowing them to better utilize the remaining memory capacity on their SD or SDHC memory card. Shooters can utilize Optical Image Stabilization and the camera's 10x optical zoom while recording video, as well as Samsung's Successive Recording mode, which allows the user to pause and then resume filming without having to save the clips as individual files.
Designed to help capture better images, specifically portraits and group shots of family and friends, the HZ10W's Face Detection technology detects up to nine faces and automatically adjusts focus and exposure to ensure better composition and image quality. Smile Shot automatically triggers the HZ10W to take a photo only when the camera detects smiles on the subjects' faces, and Blink Detection will automatically fire three consecutive shots if the camera detects that a subject's eyes are closed – a useful feature as it's often difficult to distinguish closed eyes when composing a shot on an LCD screen. Another unique, automatic functionality of the HZ10W is Beauty Shot, which will automatically brighten and even out skin tones as well as remove blemishes. The HZ10W's comprehensive suite of automatic controls also includes 13 scene modes, which give users the ability to effortlessly adjust the camera and capture the best image possible in any situation.
The camera is available in black or silver, with silver trim, measures 4.13"W x 2.4"H x 1.4" D, and features a large 2.7 inch (230K pixels) LCD screen.
The Samsung HZ10W will be available in January 2009 at an MSRP of $299.99.