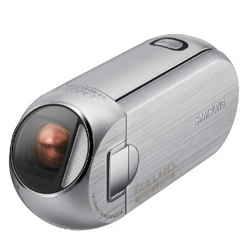 Samsung HMX-R10
CNET UK has tested the Samsung HMX-R10 HD flash memory camcorder. This small camcorder from Samsung has a stylish design and the ability to record HD movies at 1080p quality.
Some key features for the Samsung HMX-R10:
-5x optical zoom lens
-Records HD movies with 1080p quality
-9 megapixel image sensor
-2.7″ LCD touchscreen
-Time Lapse Recording
-Uses SD/SDHC memory cards
CNET UK ends up giving the Samsung HMX-R10 HD an overall rating of 7.0 out of 10 points. The reviewer finds the camcorder to have a compact design, it has a lot of features and it is able to record slow motion movies. On the downside they find the manual controls to be a bit hard to use, there is lots of noise in low light situations and there is few options for additional equipment. Overall it seems like Samsung has thought mostly about design and not so much about movie quality, but it still is a good HD camcorder.
Read the full review of the Samsung HMX-R10 HD camcorder here.