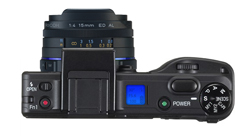 Ricoh GZ-1
There have been some rumors circulating on the internet about a new camera from Ricoh called Ricoh GZ-1. This new camera seems to like Micro Four Thirds cameras from Panasonic and Olympus by that the Ricoh GZ-1 has interchangeable lenses (but I'm not completely sure about this). Ricoh GZ-1 also feature a large 14 megapixel CMOS sensor and new high-end LCD screen.
I hope this rumor is true as it would be exciting to see Ricoh entering this part of the camera marked.
Some key features for the Ricoh GZ-1:
-Interchangeable lenses
-14 megapixel CMOS sensor
-High-end LCD screen of new design
-Built-in flash
No information yet about how much the Ricoh GZ-1 will cost or when it will be on the marked.