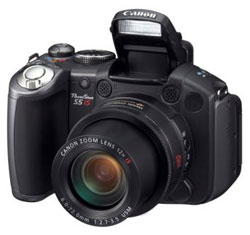 Canon PowerShot S5 IS
DIWA Labs has tested the popular Canon PowerShot S5 IS compact digital camera.
Some key features for the Canon PowerShot S5 IS:
-8.0 megapixel sensor
-12x optical zoom (36-432mm equivalent)
-Image stabilization
-2.5" high-resolution LCD screen
-Long-play VGA movies with stereo sound
DIWA Labs says that this compact camera from Canon overall is able to produce pictures of high quality, but got some image noise due to the high resolution on the relatively small sensor. The lens is also performing very good with very little vignetting, but got quite a lot of chromatic aberration values at shortest and longest focal lengths.
Check out the tests of the Canon PowerShot S5 IS camera here.
The tests done by DIWA Labs are very technical so you need to read their test guide to understand the test results.