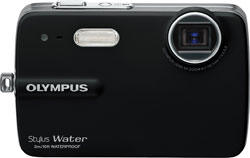 Olympus Stylus-550WP
Olympus has announced an affordable digital camera than be used under water down to 3 meters. The camera is called Olympus Stylus-550WP and several in-camera effects.
Some key features for the Olympus Stylus-550WP:
-Water resistant down to 3 meters
-10 megapixel sensor
-3x optical zoom lens (38-114 mm)
-2.5″ LCD screen
-Perfect Shot Preview
-Perfect fix for in-camera retouching
-Intelligent Auto mode.
The Olympus Stylus-550WP will be available from February 2009 for about $200.

Press release:
Olympus Stylus-550WP Offers Waterproof Point-Dunk-And-Shoot Fun
The Perfect Digital Compact Camera for Fun in the Sun with 10 Megapixels, Intelligent Auto Mode, Face Detection and More
CENTER VALLEY, Pa., January 7, 2009 – Olympus, the company that introduced shockproof/waterproof cameras to mass consumers in 2006, announces the new STYLUS-550WP. Thanks to waterproofing technology adopted from Olympus' Stylus® Tough series cameras, the new Stylus waterproof camera is optimized for consumers who want to take stunning images of their aquatic adventures, making it the perfect pool companion.
"In a recent study of consumers considering the purchase of a new digital camera, they overwhelmingly selected weatherproofing as a desired feature," said Tomoko Matsunaga, product manager, Olympus Imaging America Inc. "The new STYLUS-550WP camera borrows technology that was originally developed for our Stylus Tough cameras, and meets the needs of those consumers who want to take pictures under water or in the rain without paying for other rugged features they may not need."
Point-Dunk-and-Shoot Camera
Olympus continues to develop new products that encourage consumers to capture brilliant images in some of the world's most challenging environments and situations. The STYLUS-550WP can go where other cameras fear to tread and can perform as well under water as it does on land because of its slim lightweight, aluminum exterior that is sealed from the elements by interior rubber gaskets and O-rings. The STYLUS-550WP can be submerged up to 10 feet under water, and the inclusion of an underwater scene mode makes it ideal for taking photos while snorkeling, in the pool, or riding the waterslide.
Intelligent Auto Thinks for You
In or out of the water, you won't miss the shot thanks to Intelligent Auto Mode. It automatically identifies what you are shooting (i.e. Portrait, Night + Portrait, Landscape, Macro and Sports) and adjusts the camera's settings to capture the best quality results. First-time users can dive into this quick and hassle-free feature that does the thinking for them and produces incredible images.
Can't Hide with Face Detection!
Portrait and group shots make family reunions live beyond the short event, and with Face Detection you'll capture even the shyest relatives. The new camera detects up to three faces within the frame and automatically focuses and optimizes exposure to capture sharp, brilliant portraits and group shots. With the waterproof STYLUS-550WP, you'll capture amazing photos even if your next family reunion is at a water park!
Versatile Memory
All Olympus digital point-and-shoot cameras accept xD-Picture CardTM media. Starting with products available in August 2008, they also accept microSD memory cards to capture images. The STYLUS-550WP offers the flexibility to use either xD-Picture Card or microSD memory cards, which is just one more advantage of Olympus point-and-shoot cameras.
Freeze that Splash with Digital Image Stabilization
The fast motion of moving sea life or paddling swimmers could easily cause blurry images. Digital Image Stabilization freezes the action with high ISO sensitivity and fast shutter speeds to help prevent blurry images often caused by a moving subject, resulting in crystal-clear snaps.
Perfect Fix In-Camera Editing
While it can't remove the red from your eyes caused by too much chlorine in the water, the STYLUS-550WP offers Red-Eye Fix as well as other in-camera editing features such as Shadow Adjustment Edit, resizing and cropping, so you can edit photos right in the camera. With the Perfect Fix function, multiple editing features can be applied at once, so what you see on the 2.5-inch LCD will look amazing when you show it to your friends in the hot tub.
Mix and Match with Practical and Fashionable Accessories
The STYLUS-550WP comes in an attractive black body reminiscent of a scuba diving wetsuit; it is also available in aqua blue. Olympus also offers a number of optional accessories for the STYLUS-550WP so shooting in the water can be more fun and exciting. Highly visible floating wrist straps free users' hands when swimming or chasing the next big wave. A stylish silicone skin protects the camera from scratches. Durable, sporty neoprene cases are perfect for active or outdoor expeditions. Additionally, new carabineer straps available in blue and black attach directly to the camera and can be hooked to a bag, swimming suit or hiking shorts.
OLYMPUS Master 2 Software
OLYMPUS Master 2 Software provides the ultimate in digital imaging management. An intuitive user interface makes downloading to your computer quick and simple, and images are easily organized by folders or albums and searchable by date in Calendar view. A direct link makes uploading your images and videos to YouTube™ easier than ever. Additionally, with one-click editing tools, such as red-eye removal, images can be touched up before printing or emailing. Online support, templates, firmware upgrades and other user services are just a mouse-click away. Use the optional muvee™ Theater Pack to create professional quality slide shows and DVDs from your pictures using any of several built-in templates. Additionally, create scrapbooks, greeting cards and other fun prints using the optional ArcSoft® Print Creations plug-in.
Availability
The STYLUS-550WP will be available in February 2009. It includes a wrist strap, camera WIN/Mac USB cable, audio/video cable, Lithium-Ion Battery (LI-42B) & Charger (LI-41C), MASD-1 (microSD Adapter), manual, warranty card and OLYMPUS Master 2 software (CD-ROM).
U.S. Pricing
STYLUS-550WP Estimated Street Price: $199.99 (U.S.)