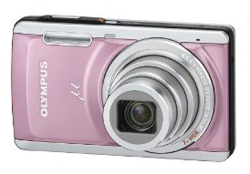 Olympus mju-7040
CNET UK has reviewed the Olympus mju-7040 compact digital camera. The Olympus camera has nice specifications like 14 megapixels and 7x optical image zoom, and a big chunk of internal memory.
Some key features for the Olympus mju-7040 camera:
-14 megapixel image sensor
-7x optical zoom lens (28-196mm)
-3″ LCD screen
-Optical image stabilization
-2GB of internal memory
-High Definition video in 16:9 widescreen ratio
-Face detection
CNET UK ends up giving the Olympus mju-7040 a good review with a total score of 7.6 points out of 10 possible. The reviewer the speedy zoom lens and it has a usable zoom range. He also likes the way Olympus has implemented high definition video and that you get a whole of 2GB of internal memory. On the negative side you find issues like heavy noise reduction even at low ISO levels and the camera sometimes overexposes the pictures it takes. If Olympus had not crammed so many megapixels into a small sensor I believe the mju-7040 would have got a top score.
Read the full review of the Olympus mju-7040 compact digital camera here.