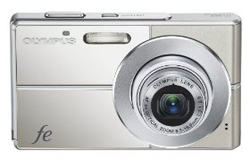 Olympus FE-3010
CNET UK has reviewed the Olympus FE-3010 compact digital camera. This Olympus camera feature 12 megapixels and has an ultra-compact design that makes it suitable to carry everywhere.
Some key features for the Olympus FE-3010:
-12 megapixel image sensor
-Ultra-compact design
-3x optical zoom lens
-2.7″ LCD screen
-xD Picture Cards and microSD memory cards
CNET UK ends up giving the Olympus FE-3010 a "Good" 6.2 rating. The reviewer likes the design of the camera, but finds it a bit slow and the photos that it produces are a bit soft. The FE-3010 is pretty cheap, but you might look at other cameras in the same class to see if there are any other cameras that give you better image quality.
Read the full review of the Olympus FE-3010 camera here.