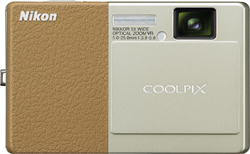 Nikon CoolPix S70
Digital Camera Review has tested the Nikon CoolPix S70 compact digital camera. This Nikon camera feature a large 3.5″ OLED touchscreen and a wide angle 5x zoom lens.
Some key features for the Nikon CoolPix S70:
-3.5″ OLED touch screen
-12.1 megapixel sensor
-5x optical zoom lens (28-140mm)
-optical and digital image stabilization
-HD 720p movie mode with 30 fps
-20MB built-in memory
Digital Camera Review ends up the Nikon CoolPix S70 a pretty good review, but the camera has some shortcomings. On the positive side the reviewer likes the video mode, sleek design, the large touchscreen and the touch shutter. On the other hand the reviewer does not like the hefty price tag, that the touchscreen can be difficult to use (and you got no manual alternatives), inconsistent image quality and small resolution on the touchscreen. It seems like Nikon has a good concept with the S70 camera and lets hope they pull it off better with the next model.
Read the full review of the Nikon CoolPix S70 camera here.