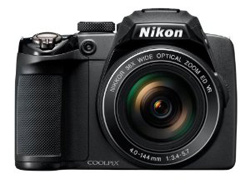 Nikon Coolpix P500
Photography Blog has reviewed a new digital compact camera from Nikon with an incredible zoom range. The optical zoom lens starts at 22.5mm and ends at 810mm so it should fit most of your zooming needs. The camera is called Nikon Coolpix P500 and also has a nice tiltable LCD screen.
Some key features for the Nikon Coolpix P500:
-12.1 megapixel image sensor
-36x optical zoom lens (22.5-810mm)
-5-way VR Image Stabilization System
-3″ tiltable LCD screen
-Full HD 1080p video recording
-ISO sensitivity from 160 to 3200
Photography Blog ends up giving the P500 a "Recommended" rating and an overall score of 4 out of 5 possible stars. The Nikon camera scores highest on features, a little bit lower on design and ease of use, while it scores lowest on image quality and value for your money. The Nikon ultrazoom handles much like a DSLR camera and has many DSLR style features. The P500 is a good camera, but Nikon could have worked a bit more on the image quality and added support for RAW-format.
Read the full review of the Nikon Coolpix P500 digital camera with 36x optical zoom here.