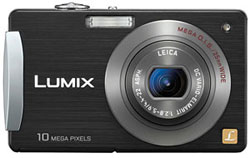 Panasonic Lumix DMC-FX500
DIWA Labs has tested the new compact camera from Panasonic, the Lumix DMC-FX500, that features a 5x (25-125mm equivalent) ultra-wide optical zoom lens from Leica.
DIWA Labs says that the camera gives very good image quality even at widest angle. There is some color fringing in the corners at the widest angles, but overall this seems like an excellent compact camera from Panasonic if you are interested in wide angle photography.
Some key features for the Lumix DMC-FX500:
-10.1 million effective pixels
-5x optical zoom Leica lens (35mm film camera equivalent: 25-125mm)
-3.0-inch LCD with touch screen
-Image stabilization
-Auto focus (AF) tracking
-Intelligent auto mode
Check out the tests of the Panasonic Lumix DMC-FX500 here.
The tests done by DIWA Labs are very technical so you need to read their test guide to understand the test results.