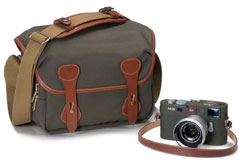 Leica Safari Special Edition M8.2
Leica has announced a special edition of their M8.2 camera. The camera is called Safari Special Edition and comes with a special edition of the Leica ELMARIT-M 28mm f/2.8 ASPH. lens.
The camera set is limited to 500 copies so this will be very exclusive pieces of photography equipment and the price tag of $10000 adds to the exclusivity.

Information from Leica:
With a production run limited to only 500 units , this special-edition "Safari" includes as well as the olive green painted LEICA M8.2 and the silver anodised finished LEICA ELMARIT-M 28mm f/2.8 ASPH.lens, an exclusive Billingham camera case and an elegant carrying strap, bearing an embossed Leica logo. The inspiration for the olive green paint has been the M cameras supplied by Leitz to the "Bundeswehr" (German Army) in the 1960's as well as the LEICA R3 "Safari", both of which are much sought after today and therefore very expensive.
The top cover, bottom plate, camera back and the leatherette "VULKANIT" covering are all coated with a resistant olive green paint finish, which provides a pleasant touch and grip. The top cover is also engraved with the traditional Leica script. All operational elements are finished in silver chrome and therefore match with the silver anodised lens.
LEICA ELMARIT-M 28 mm f/2.8 ASPH.
The LEICA ELMARIT-M 28 mm f/2.8 ASPH. lens has been very popular since its introduction into the M system. It's very compact dimensions and outstanding performance also apply to this silver anodised version, exclusively available in the Limited Edition "Safari". By using silver anodising on aluminium parts, the low weight of only 180 grams has been maintained. The lens is completed with a classic metal lens hood, also in silver anodised finish.
Billingham Combination Bag M "Safari"
The English Specialist manufacturer of high quality camera cases, Billingham, has produced exclusively for the new Edition "Safari" the matching bag in olive green with tan coloured top-grain leather trim. The Billingham Combination Bag M "Safari" is made of water resistant fabric "FibreNyte" and can take the complete "Safari" Set as well as further lenses and accessories.
The carrying strap: Genuine leather with Leica embossing
The outer side of this elegant carrying strap consists of tan-coloured calfskin, the inner side of anti slip pigskin. It's very high quality can be seen for example by the carefully finished hemlines of the strap. An embossed Leica Logo also adorns the middle of the carrying strap.