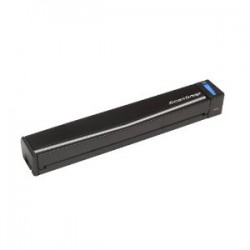 Fujitsu ScanSnap S1100
Trusted Reviews has tested a portable scanner from Fujitsu. The scanner is called Fujitsu ScanSnap S1100 and measures only 273 x 48 x 34mm.
Some key features for the Fujitsu ScanSnap S1100:
-Able to scan thick postcards, greeting cards, and plastic ID cards
-Scans a letter size page in about 7.5 seconds
-Able to produce PDF files directly
-Powered by USB
Trusted Reviews ends up giving the ScanSnap S1100 an overall score of 8 out of 10 possible points. The mobile scanner scores highest on scan speeds, scan quality and features, while it scores a little bit lower on value for your hard earned money. On the positive side the reviewer finds the software that comes with this scanner to be good, it scans in high resolution and the quality of photo scans are pretty good. There are a few negative points keeping it from getting a top score including that it is not able to scan from books or magazines and you do not get a case for the scanner.
Read the full review of the Fujitsu ScanSnap S1100 mobile scanner here.