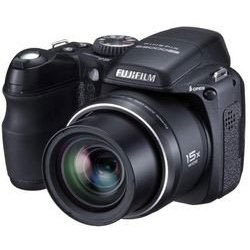 Fujifilm FinePix S2000HD
The website Lets Go Digital has reviewed a "hybrid" megazoom camera from Fujifilm, the Fujifilm FinePix S2000HD with 15x optical zoom and 10 megapixel sensor.
Some key features for the Fujifilm FinePix S2000HD:
-15x optical zoom (27.6-414mm, f/3.5-5.4)
-10 megapixel sensor
-2.7″ LCD screen
-Dual image stabilization
-High definition 16:9 format suitable for full wide-screen display
Lets Go Digital ends up giving the Fujifilm compact camera a "Recommended 74%" rating due to the fact that camera is able to take good pictures at low ISO values. However at higher ISO levels the Fujifilm lacks a bit compared to cameras from competing brands. Seems like a fine camera, but maybe there are more interesting ones out there from Canon, Nikon or Panasonic.
Read the full review of the Fujifilm FinePix S2000HD camera here.