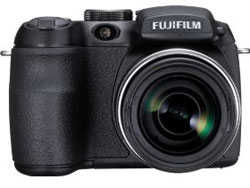 Fujifilm FinePix S1500
Photography Blog has reviewed the Fujifilm FinePix S1500 compact digital camera. This super zoom camera looks a bit like a DSLR and features 12x zoom and 10 megapixels.
Some key features for the Fujifilm FinePix S1500:
-10 megapixel sensor
-12x optical zoom lens (33-396mm)
-2.7″ LCD screen
-image stabilization
-full manual controls
-ISO sensitivity from 64 to 6400
-23 MB built-in memory
Photography Blog ends up giving the Fujifilm FinePix S1500 a "Recommended" rating as the camera has a lot of features for its price. There are a few downsides like blown highlights, the metering can be a bit off and you should not use ISO over 800 even though the FinePix camera is able to take pictures at ISO 6400.
Read the full review of the Fujifilm FinePix S1500 camera here.