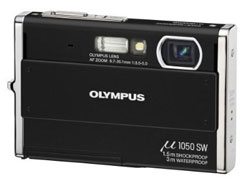 Olympus Mju 1050 SW
Camera Labs has reviewed the Olympus mju 1050 SW (known as Stylus 1050 SW in North America) compact camera. The camera can handle very tough conditions such as falls and underwater photography.
Some key features for the Olympus mju 1050 SW / Stylus 1050 SW:
-10.1 megapixel sensor
-Waterproof down to 3m
-Freezeproof of -10 degrees C
-Shockproof to 1.5m
-3x optical zoom lens (38-114 mm)
Camera Labs ends up giving the Olympus mju 1050 SW a 82% rating due to that is able to take pretty good pictures and as the camera promises it is able to take pictures under very tough conditions. The only downsides are a bit short zoom range, no optical or sensor-shift stabilization and some vignetting/softness in the corners. The Olympus mju 1050 SW seems like a very capable camera if you want to take underwater pictures, but a strong competitor to the Olympus camera is the Pentax Optio W60 that is some cases have better specifications.
Read the full review of the Olympus mju 1050 SW / Stylus 1050 SW camera here.