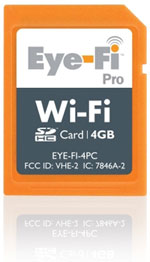 HP Deskjet D2660
Eye-Fi has announced a new wireless SDHC memory card for the professional photographer marked. The card is called Eye-Fi Pro and lets the user upload pictures directly to their computer and the web via Wi-Fi. The card supports RAW file transfer and lets you automatically upload pictures and videos direct to more than 25 online photo and video sharing sites like Flickr.
The Eye-Fi Pro card is now available and costs about $150.

Press release:
MOUNTAIN VIEW, Calif., June 10, 2009: Eye-Fi Inc. today unveiled the Eye-Fi Pro, a new wireless SDHC memory card for digital cameras that allows professionals and photo enthusiasts to automatically upload images straight from their camera to their computer and the Web. Available today, the Eye-Fi Pro includes RAW image support and peer-to-peer connectivity for a direct connection between the camera and a computer, no router or Internet connection required (also known as ad hoc).
Eye-Fi also announced today that all Eye-Fi card users can now select which photos or videos they want to wirelessly transfer from their camera to their computer or the Web, using the new Selective Transfer feature.
"People are engaged in photography at a deeper level than ever before. They have moved from being casual photographers to passionate enthusiasts, shooting in RAW for easier editing, adding geotags for a richer experience or sharing photos in an online gallery," said Jef Holove, CEO of Eye-Fi. "These people are looking for tools that advance the art of photography and make it more efficient – and the Eye-Fi Pro does both."
About the Eye-Fi Pro
The Eye-Fi Pro lets users wirelessly upload more file types, including JPEG and RAW images and videos. The Eye-Fi Pro also allows users to create an ad hoc connection through their computer or other mobile device to wirelessly upload media files while away from a wireless router.
"The Eye-Fi Pro has streamlined my workflow. It lets me quickly upload files in the background while I continue my photo shoots. My clients can choose their best shots in near real time," said Jeff Sockwell, an Eye-Fi Pro beta user and professional photographer who used Eye-Fi in a portrait session with more than 150 dance students. "I also have assurance that photos are automatically saved both on my computer and my Eye-Fi Pro."
Like the Eye-Fi Explore Video, the new Eye-Fi Pro will automatically upload images and videos direct to more than 25 online photo and video sharing sites. It also lets users upload away from home at more than 10,000 Wayport and open hotspots, and will automatically geotag photos with information about where the images were taken. The Eye-Fi Pro is now available at for an MSRP of $149.
Selective Transfer
Also announced today is Eye-Fi's newest feature, Selective Transfer, that gives users more control over which photos to upload. Using the "protect" or "lock" feature in the camera's menu, users can select which files to wirelessly upload. Any "protected" photo will automatically be uploaded, and all photos will remain on the memory card until the user manually deletes them. Selective Transfer is free, and available now for all Eye-Fi card users through the Eye-Fi Manager.
At the Leading Edge of Camera Technology – Eye-Fi Connected cameras
In effort to meet prosumers' increasing camera feature set demands and widen wireless adoption, manufacturers are offering Eye-Fi card recognition and optimization. The Eye-FiConnected camera features range from power setting optimization to on-camera notifications while photos and videos are wirelessly uploaded. These new cameras include Nikon's latest model, the D5000 (which follows in the footstep of the already Eye-FiConnected D60 and D90), as well as the entire spring line-up of Casio cameras, including the Casio EX-S12, Casio EX-S5, Casio EX-FS10, Casio EX-FC100 and Casio EX-Z29.
Eye-Fi has received numerous product awards including Popular Science's "Best of What's New" for 2008, and PC World's "The 100 Best Products of 2008."