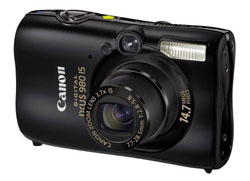 Canon Digital IXUS 980 IS
The acknowledged website DIWA Labs has tested the 14.7 megapixel camera from Canon, the Canon Digital IXUS 980 IS (known as PowerShot SD 990 IS in North America). As the camera crams tons of megapixels into a small sensor it is interesting to see if the camera is able to produce pictures of high quality and deliver high resolution.
Some key features for the Canon Digital IXUS 980 IS / PowerShot SD 990 IS:
-14.7 megapixels
-2.5″ LCD screen
-3.7 x optical zoom (36-133mm, f/2.8-5.8)
-Image stabilization
Read all the tests of the Canon Digital IXUS 980 IS / PowerShot SD 990 IS camera here.
The tests done by DIWA Labs are very technical so you need to read their test guide to understand the test results.

Buy the PowerShot SD 990 IS from BH Photo and get free shipping.