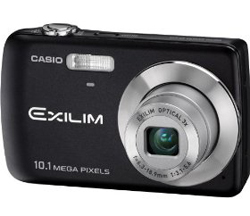 Casio Exilim EX-Z33
CNET UK has tested the Casio Exilim EX-Z33 compact digital camera. This camera from Casio feature 10.1 megapixels and 3x optical zoom. Maybe not the most interesting specifications, but the camera comes with a low price tag.
Some key features for the Casio Exilim EX-Z33:
-10.1 megapixel image sensor
-3x optical zoom lens
-2.5″ LCD screen
-ISO sensitivity 64 to 1600 (36-107 mm)
-Uses SD/SDHC memory cards
-Face detection
-Able to record widescreen movies
CNET UK ends up giving the Casio Exilim EX-Z33 a mediocre rating with 6.4 points out of 10 possible. The camera is able to produce pictures of pretty good quality and you get quite a lot of features for the money, but the camera is also slow and this hurts the overall score. If you are planing on taking pictures of objects standing still and have good light this could be the budget camera for you.
Read the full review of the Casio Exilim EX-Z33 digital camera here.