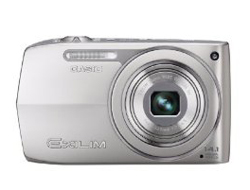 Casio Exilim EX-Z2000
Casio Exilim EX-Z2000 is an ultra compact digital camera that Trusted Reviews has tested. This Casio camera has 14.1 megapixels, a large LCD and the ability to record movies with HD quality.
Some key features for the Casio Exilim EX-Z2000:
-14.1 megapixel image sensor
-5x optical zoom lens (26-130mm)
-3″ LCD screen
-Sensor-shift image stabilization
-HD movie recording, 1280 x 720 30fps
-Size: 100.5 x 58.5 x 19.8mm
-Weighs 149g
Trusted Reviews ends up giving the Casio Exilim EX-Z2000 a very good review with an overall score of 9 out of 10 points and it even receives a "Trusted Reviews Recommended" award. The camera gets a top score on value and scores very high on the other factors: image quality, features and build quality. The Casio camera has tons of good features and has a good design. In addition it comes with a low price tag that makes it a real winner. It is nice to see that smaller camera brands are able to make such quality cameras and give the bigger brands some competition.
Read the full review of the Casio Exilim EX-Z2000 digital camera here.