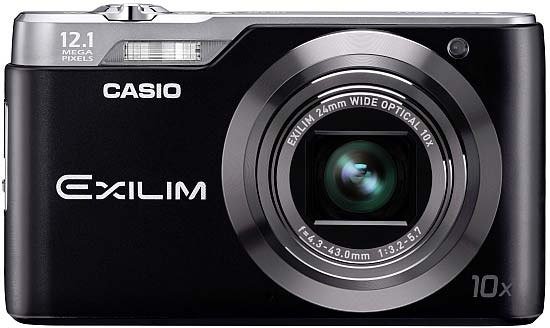 Casio EX-H5
Photography Blog has reviewed a travel zoom camera from Casio. The Casio camera is called Casio EX-H5 and features a 10x optical zoom lens that starts pretty wide at 10mm. It also has over 12 megapixels and the new Exilim Engine 5.0 processor.
Some key features for the Casio EX-H5 camera:
-12.1 megapixel image sensor
-Exilim Engine 5.0 processor
-10x optical zoom lens (24-240mm)
-Image stabilization
-2.7″ LCD screen
-Able to record 720p HD movies
Photography Blog ends up giving the Casio EX-H5 a "Recommended" rating with an overall score of 4 out of 5 possible stars. The EX-H5 scores highest on value for your money and ease of use, a bit lower on design and features while it scores lowest on image quality. The Casio is a good family camera, but it have some shortcomings like not being able to do optical zooming while recording movies and image quality could be better as the pictures gets worse at even ISO 200 from noise. Hopefully Casio will work on the image quality with their next camera in this line.
Read the full review of the Casio EX-H5 digital camera here.