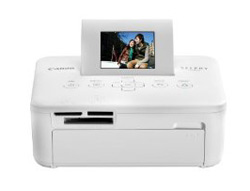 Canon Selphy CP800
Printer Comparison has tested a compact photo printer from Canon called Canon Selphy CP800. The photo printer has a large tilt-up LCD screen and is able to print photos fast as one in 47 seconds.
Some key features for the Canon Selphy CP800 printer:
-Print resolution 300 x 300 dpi
-Prints 4×6 photos in as fast as 47 seconds
-Built-in 2.5″ tilt-up LCD screen
-Built-in card reader
Printer Comparison ends up giving the the CP800 an overall rating of 3.5 stars out of 5 possible. On the positive side the reviewer find the printer to make photos of very good quality, it has a very compact design and it comes at a low price. On the negative side there are issues such as high cost per print and uses a card sized paper tray separate. If you are looking for a dedicated photo printer with a compact desing the CP800 might be your choice.
Read the full review of the Canon Selphy CP800 compact photo printer here.