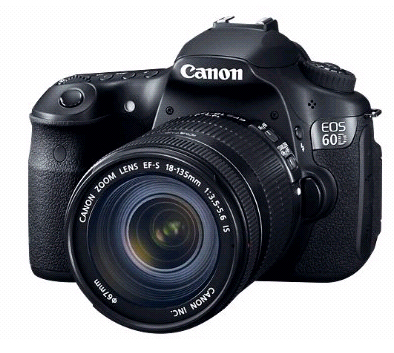 Canon EOS 60D
Canon keeps pushing the amounts of megapixels they can fit into their DSLR cameras. Their latest offering, the Canon EOS 60D, can offer 18 megapixels, a large 3″ LCD screen, full HD video recording and much more. This seems like an interesting camera for people wanting to step up from entry level DSLR cameras. Let us hear what Photography Blog thinks about this Canon DSLR camera.
Some key features for the Canon EOS 60D:
-18 megapixel image sensor
-3″ vari-angle LCD screen
-Full HD video capture
-5.3 frames per second
-9-point all cross-type autofocus AF system
-ISO sensitivity up to 12800
-Uses SD, SDHC and SDXC memory cards
Photography Blog ends up giving the Canon EOS 60D a "Highly Recommended" rating with an overall score of 4.5 stars of 5 possible. The Canon camera gets a perfect score on image quality and almost perfect on features, design ease of use and value for your money. The 60D seems like an excellent camera, especially if you are looking for a step up from the EOS 500D DSLR. One would think that all those megapixels crammed into a relatively small image sensor would make the image quality poorer, but this is quite the opposite as the camera is able to produce pictures of very good quality even at high ISO levels. It seems like Canon has made another winner with the 60D.
Read the full review of the Canon EOS 60D DSLR camera here.