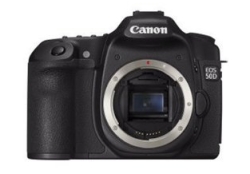 Canon EOS 50D
Digital Camera Resource Page has reviewed the high resolution DSLR camera Canon EOS 50D that is the successor of the popular 40D camera.
Some key features for the Canon EOS 50D camera:
-15,1 megapixel sensor
-3″ LCD screen with 920,000 dots
-ISO sensitivity 100-3200
-Magnesium body
Digital Camera Resource Page ends up giving the Canon EOS 50D a very good review, but you should get a good lens for this camera because of the high resolution. The camera has little noise and has a very good LCD screen.
The only downsides are that pictures can be a bit soft when you use an average lens that can't handle the big resolution and the battery life could be a bit longer.
The 50D seems like a very nice camera, but if you are a 40D owner it might not be necessary to upgrade just yet.
Read the full review of the 50D here.