Sony Memory Stick PRO Duo 32GB – highest-capacity Memory Stick PRO Duo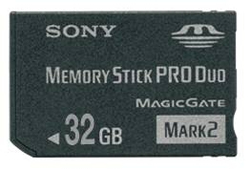 Sony Memory Stick PRO Duo 32GB
Sony has announced the highest-capacity Memory Stick PRO Duo to date. The card is called Sony Memory Stick PRO Duo 32GB and it lets handycam owners record full HD movies (1920 x 1080 Full HD) for 225 minutes using this memory stick card. Owners of the latest models of Cyber-shot digital cameras can record up to 29 minutes of video in Fine mode (MP4 1280 x 720).
The Sony Memory Stick PRO Duo 32GB memory card will be on the marked in September 2009 and cost about $200.

Press release:
Highest Capacity 32GB Model Added To Memory Stick PRO Duo™ Range
• 32GB ideal for stable long-duration HD recording with Handycam®
• Perfect for new Cyber-shot® features including extended video capture and super-fast continuous shooting
The Memory Stick PRO Duo line now goes all the way up to 32GB thanks to the launch of a new high-capacity model.
The Memory Stick PRO Duo 32GB will have a particular appeal to the owners of HD Handycam who need long-duration, stable HD recording capability.
To put this in context, Handycam owners shooting in FH mode (1920 x 1080 Full HD) can now record 225 minutes (3 hours 45 minutes) of HD video using a single card. It is perfect for events such as weddings, birthday parties, and athletic events. You do not have to worry about running out of memory!
HD Handycams are not the only things that will benefit from the size and stable recording characteristics of the 32GB card.
For example, HD video clips capture the moments by using the latest models of Cyber-Shot. And with the latest models of Cyber-shot, each video clip now can be recorded up to 29 minutes (using Fine mode: MP4 1280 x 720). You can enjoy shooting Video clips with Cyber-shot more than ever.
And newly announced Cyber-shot™ TX1 and WX1 are allowing a continuous burst of full-resolution images and creating sweeping panoramas by combining a burst of images. These outstanding features demand an uncompromising approach to the memory. With its ability to store 7 hours 38 minutes of HD video (1280 x 720, 30 fps,mono) or 6,500 pictures at 12 megapixel resolution pictures, the Memory Stick PRO Duo 32GB is great news for Cyber-shot owners as well as anyone with an HD Handycam.