Sony Handycam HDR-XR350V HD camcorder with 160 GB internal memory test / review by Digital Camera Review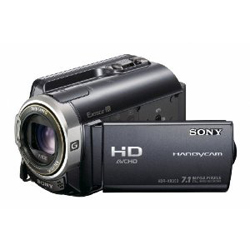 Sony Handycam HDR-XR350V
Digital Camera Review has tested a HD camcorder from Sony. The Sony camcorder is called Sony Handycam HDR-XR350V and has a lot of internal memory combined with the ability to record 1920×1080 Full HD video.
Some key features for the Sony Handycam HDR-XR350V:
-160 GB of internal memory
-1/4″ 3.5MP back-illuminated "Exmor R" CMOS sensor
-1920×1080 Full HD Recording
-7 megapixel still images
-12x optical zoom lens
-Optical image stabilization
Digital Camera Review ends up giving the Sony Handycam HDR-XR350V a good review with a total score of 3.5 out of 5 possible stars. The Sony camcorder scores highest on features, almost as high on performance, image quality and video quality while scoring a bit lower on expandability, design and ease of use.
On the positive side the reviewer find the Handycam to be able to record good videos in all kinds of light, it has many good features and still images are of very good quality. On the negative side we find aspects such as a too small LCD screen, awkward menu system and there is no standard audio output.
Read the full review of the Sony Handycam HDR-XR350V camcorder here.