Sony Cyber-shot DSC-T90 test / review by Photography Blog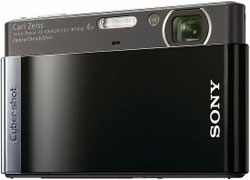 Sony Cyber-shot DSC-T90
Photography Blog has reviewed the Sony Cyber-shot DSC-T90 compact camera. This camera has a very nice and slim design that might fit photographers that are looking for an ultra compact camera.
Some key features for the Sony Cyber-shot DSC-T90:
-12.1 megapixel sensor
-4x optical zoom (35-140mm)
-optical image stabilization
-3″ LCD touchscreen
-face and smile detection
-up to ISO 3200
-1280×720 pixel 720p HD movie recording
Photography Blod ends up giving the Sony camera an "Above average" rating as the camera does not produce the best pictures on the marked and it is pretty expensive for a camera in this class. The Sony Cyber-shot DSC-T90 does has some nice features and have a very stylish design.
Read the full review of the Sony Cyber-shot DSC-T90 camera here.