Sony Cyber-shot DSC-HX7V travel zoom camera test / review by Photography Blog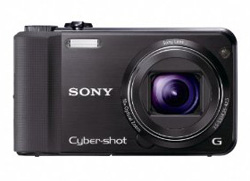 Sony Cyber-shot DSC-HX7V
Photography Blog has tested a travel camera from Sony that has many nice features. The camera is called Sony Cyber-shot DSC-HX7V and comes with over 16 megapixels, full HD video, 3D modes and lots more. Let us hear what the reviewer thinks about this digital camera.
Some key features for the Sony Cyber-shot DSC-HX7V:
-16.2 megapixel image sensor
-10x optical zoom lens (25-350mm)
-Optical SteadyShot image stabilization
-3″ LCD screen
-3D still image and panorama
-Full 1080/60i HD Video
Photography Blog ends up giving the DSC-HX7V a "Highly Recommended" rating with an overall score of 4.5 stars out of 5 possible. The Sony camera scores highest on ease of use and design where it gets a perfect score, while it gets a little lower score on image quality, features and value for your money. This Cybershot camera seems like a good travel camera especially if you look at all the cool features and the relatively low price tag.
Read the full review of the Sony Cyber-shot DSC-HX7V travel zoom camera here.