Sony Alpha SLT-A55V (a55) DSLR camera test / review by About.com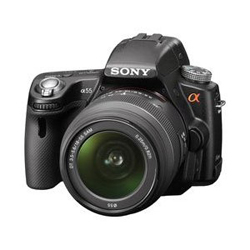 Sony Alpha SLT-A55V (a55)
About.com has reviewed a new DSLR camera from Sony called Sony Alpha SLT-A55V (a55). The Sony a55 features a new technology called Translucent Mirror Technology that makes Sony able to make their DSLR camera in this line smaller. Many people, me included, has asked for smaller cameras with large image sensors so this is a good move from Sony. Let us hear what the reviewer over at About.com thinks about the Sony Alpha SLT-A55V.
Some key features for the Sony Alpha SLT-A55V (a55):
-Translucent Mirror Technology
-16.2 megapixel image sensor
-3″ LCD screen
-Continuous 10 fps shooting
-1080/60i Full AVCHD or 1080/30p movies
About.com gives the Sony Alpha SLT-A55V a very good review with an overall score of 5 out of 5 possible stars. On the positive side the reviewer find the camera to produce pictures of excellent quality, automatic exposure is very good, fast and accurate autofocus and the feature where the camera switches between viewfinder and LCD view is nice. On the negative side the reviewer actually find the camera body to be a bit large, the camera is sometimes unable to focus in low light situations and LCD glare in direct sunlight. The reviewer claims that the a55 is one of the best beginner level DSLR cameras on the market!
Read the full review of the Sony Alpha SLT-A55V (a55) DSLR camera here.