Sony Alpha DSLR-A850 test / review by Digital Camera Review – budget full frame camera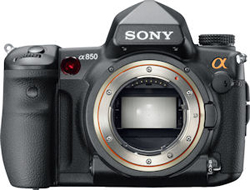 Sony Alpha DSLR-A850
Digital Camera Review has tested the full frame DSLR camera Sony Alpha DSLR-A850. This full frame seems to be targeted at photographers who want a big sensor but are on a smaller budget than professional photographers.
Some key features for the Sony Alpha DSLR-A850:
-24.6 megapixel image sensor
-3″ LCD screen with 921k resoultion
-Viewfinder with 98% coverage
-3fps continous shooting
-Shutter speeds to 1/8000 second
-Nine-point AF with ten supplemental assist points
Digital Camera Review ends up giving the Sony Alpha DSLR-A850 a total score of 4 out 5 stars. The DSLR scores highest on features and getting an overall high score on image and video quality, design, ease of use, performance and value. The A850 seems like a very good DSLR, but the biggest shortcomings in my opinion is that it produces quite a lot of noise at higher ISO levels. If you want a full frame DSLR with lots of megapixels this might be the right choice for you.
Read the full review of the Sony Alpha DSLR-A850 camera here.