Samsung WB600 / Samsung HZ30W digital camera test / review by CNET UK – with dual image stabilization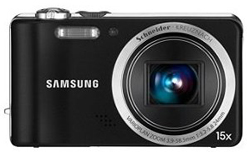 Samsung WB600 / Samsung HZ30W
CNET UK has reviewed the Samsung WB600 (called Samsung HZ30W in some markets) digital camera. This ultrazoom camera from Samsung has a nice 15x wide angle zoom and over 12 megapixels in addition to be to record HD video.
Some key features for the Samsung WB600 / Samsung HZ30W:
-12.1 megapixel image sensor
-15x optical zoom lens (24-360mm)
-Dual image stabilization (optical and digital)
-3.0″ LCD screen
-720p HD video recording
-Uses SD and SDHC memory cards
CNET UK ends up giving the WB600 a pretty good score with a total of 8.8 points out of 10 possible. The reviewer find the Samsung camera to have a great lens and a useful zoom range in addition to being good value for your money. You also get manual controls, but if we look on the negative side the reviewers finds the camera to be average video quality and the smile and blink detection is not working all that good. Overall it seems Samsung has produced another good compact camera and is placing themselves among the top digital camera makers.
Read the full review of the Samsung WB600 / Samsung HZ30W digital camera here here.