Samsung WB2000 / Samsung TL350 test / review by Photography Blog – camera aimed at serious photographers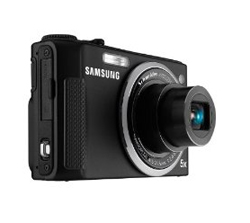 Samsung WB2000 / Samsung TL350
Photography Blog has posted a review of Samsung digital camera called Samsung WB2000 (or Samsung TL350 in some markets). This Samsung camera is targeted at more serious photographer with its bigger image sensor, full manual control and wide angle zoom lens.
Some key features for the Samsung WB2000 / Samsung TL350:
-10 megapixel 1/2.4-inch high-speed Back Side Illuminated CMOS image sensor
-3.0″ AMOLED screen
-5x optical zoom lens (24-120mm)
-Dual image stabilization
-ISO sensitivity 80-3200
-Full HD Movie Mode
-Full manual control
Photography Blog ends up giving the Samsung WB2000 a "Highly Recommend" rating with 4.5 out of 5 possible stars. The Samsung camera scores highest on image quality, features and ease of use and a little lower on value for your money and design. The WB2000 is a very good camera crammed with great specs that should fit most photographers. The only downsides are a few buttons that seems out of place, low battery life and menu system has some weird aspects.
Read the full review of the Samsung WB2000 / Samsung TL350 digital camera here.