Samsung ST70 / TL110 test / review by Photography Blog – ultra-thin compact digital camera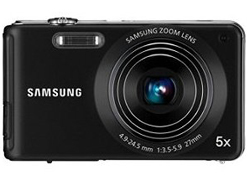 Samsung ST70 / TL110
Samsung has reviewed a new ultra-thin digital camera from Samsung. The camera is called Samsung ST70 (Samsung TL110 in some markets) and features over 14 megapixels and 5x wideangle zoom in addition to be able to record HD video.
Some key features for the Samsung ST70 / TL110:
-14.2 megapixel image sensor
-5x optical zoom lens (27-135mm)
-2.7″ LCD screen
-Able to record 720p HD video
-Dual Image Stabilization
-Uses SD and SDHC memory cards
Photography Blog ends up giving the Samsung ST70 / TL110 a "Recommended" rating with an overall score of 4 out of 5 stars. The Samsung camera scores highest on value for your hard earned money and a little lower on design, features, image quality and ease of use. The ST70 is a very stylish camera with a slim design that will easily fit in your pocket. At the same time it is priced pretty low and you get tons of megapixels
Read the full review of the Samsung ST70 / TL110 digital camera here.