Samsung ST5500 / Samsung CL80 digital camera test / review by Photography Blog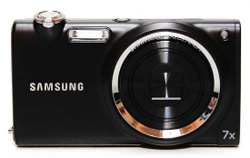 Samsung ST5500 / Samsung CL80
Photography Blog has reviewed a new digital camera from Samsung. The camera is called Samsung ST5500 (or Samsung CL80 in some markets) and has an enormous 3.7″ AMOLED touch-screen combined with 14 megapixels.
Some key features for the Samsung ST5500 / Samsung CL80:
-14.2 megapixel image sensor
-7x optical zoom lens (31-217mm)
-Optical image stabilization
-3.7″ AMOLED touch-screen
-720p HD video
-Wi-Fi connectivity
Photography Blog ends up giving the Samsung ST5500 "Highly Recommended" rating with an overall score of 4.5 out of 5 stars. The Samsung camera scores highest on ease of use, design and features while scoring a litter lower on image quality and lowest on value for your money. The reviewer finds the AMOLED screen to be one of the best screens on the market. This combined with many useful features makes the ST5500 to be a very attractive camera. Kudos to Samsung for being an innovative camera makers among many boring compact cameras.
Read the full review of the Samsung ST5500 / Samsung CL80 digital camera here.