Samsung ST550 review / test by CNET UK – digital camera with front LCD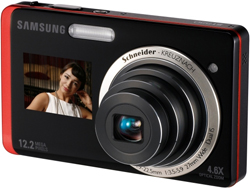 Samsung ST550
CNET UK has reviewed the Samsung ST550 digital compact camera. This camera feature a small LCD screen on the front that make you able to compose when you take pictures of yourself. Seems like a very neat feature for everyday photographers.
Some key features for the Samsung ST550:
-1.5″ LCD screen in the front
-12.2 megapixel image sensor
-4.6x optical zoom lens (27-124mm)
-3.5″ touch LCD screen on the ST550
CNET UK ends up giving the Samsung ST550 an "Excellent" 8.1 rating. The reviewer likes the front LCD and the HD movie mode is very nice. On the downside the reviewer finds that the lens quality could be better and Samsung seems to have put some heavy noise filters in the camera which gives you fewer details in your pictures. I must give some kudos to Samsung for trying out new features in the camera marked.
Read the full review of the Samsung ST550 camera here.

Comments