Samsung ST30 thin digital camera test / review by CNET UK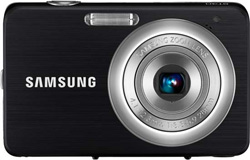 Samsung ST30
CNET UK has reviewed a very compact digital camera from Samsung that has a metal body and very slim design. The Samsung camera also comes with a modest 10 megapixels and only digital zoom. Let us hear what the reviewer thinks about this budget camera.
Some key features for the Samsung ST30:
-10.1 megapixel image sensor
-No optical zoom
-Digital image stabilization
-4x digital zoom
-Smart Auto focus
-Metal body
CNET UK ends up giving the ST30 an overall score of 3 out of 5 possible stars. On the positive side the reviewer finds aspects such as small and stylish design, and the camera is pretty easy to use. But there are some negative points hindering it from getting a top score including poor image stabilization, no optical zoom and yellow color balance. Overall this is a very cheap camera, but you might want to invest a bit more money to get more features in your next digital camera.
Read the full review of the thin Samsung ST30 digital camera here.