Samsung PL90 digital camera with built-in USB connector test / review by Photography Blog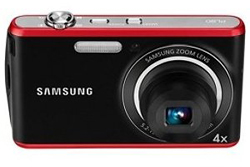 Samsung PL90
Photography Blog has reviewed an interesting camera from Samsung. The Samsung PL90 includes a built-in USB connector so you can connect the camera directly to your PC. With the USB connector you can charge the camera via your computer and easily transfer data.
Some key features for the Samsung PL90:
-12.2 megapixel image sensor
-4x optical zoom lens (29-116mm)
-2.7″ LCD screen
-Built-in USB connector
-VGA video recording
-Uses microSD and microSDHC memory cards
Photography Blog ends up giving the Samsung PL90 a "Recommended" rating with an overall score of 4 out of 5 possible stars. The PL90 scores highest on design, ease of use and value for your money while it scores a little lower on features and image quality. The Samsung camera is a nice compact camera with some cool features and Samsung gets a bit of kudos for being innovative with the flip out USB connector, but the PL90 has some shortcomings like just VGA video and it uses mircoSD memory cards.
Read the full review of the Samsung PL90 digital camera with built-in USB connector here.