Samsung PL200 budget compact camera review by About.com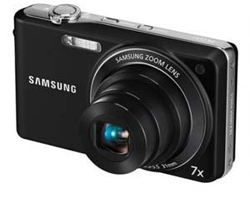 Samsung PL200
About.com has reviewed a budget camera from Samsung. The Samsung camera is called Samsung PL200 and has plenty of megapixels in addition to a 7x zoom lens and the ability record HD videos on SD memory cards.
Some key features for the Samsung PL200:
-14.2 megapixel image sensor
-7x optical zoom lens(31-217mm)
-Digital image stabilization
-3″ LCD screen
-720p HD videos using H.264 compression
-Uses SD and SDHC memory cards
About.com ends up giving the Samsung PL200 a very good review with an overall score of 4.5 stars out of 5 possible. For the price the PL200 seems like a great purchase. The reviewer finds many good points about the Samsung camera including fast response times, useful zoom range, the menu system works good and the autofocus is great. On the negative side we find that there other compact cameras out there with better image quality, but in this price class it is hard to beat the PL200. Sometimes the camera has a hard time to take photos indoors. Overall the PL200 seems like a good choice if you are a photographer on a budget.
Read the full review of the Samsung PL200 budget compact camera here.