Samsung ES55 test / review by Buy-n-Shoot – budget 10 megapixel camera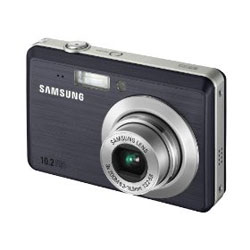 Samsung ES55
The reviewing site Buy-n-Shoot has tested the Samsung ES55 camera. This budget camera seem to offer quite a deal for the money with a 10 megapixel image sensor.
Some key features for the Samsung ES55:
-10.2 megapixel sensor
-3x optical zoom lens
-2.5″ LCD screen
-digital image stabilization
-face detection
-640×520 VGA movie mode
Buy-n-Shoot ends up giving the Samsung ES55 camera a "Gold medal" score as the camera has a lot of features for a nice price. There are some minor downsides like noise at higher ISO levels but you can't expect too much from a cheap compact camera.
Read the full review of the Samsung ES55 camera here.

Comments