Ricoh GXR A12 28mm lens-sensor module review / test by Photography Blog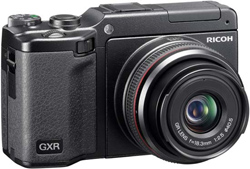 Ricoh GXR A12 28mm
The GXR system from Ricoh is pretty interesting with its swappable modules. Photography Blog has tested one of the latest modules called Ricoh GXR A12 28mm. The module has over 12 megapixels and a 28mm lens.
Some key features for the Ricoh GXR A12 28mm:
-12.3 megapixel APS-C CMOS image sensor
-GR Engine III processor
-28mm f/2.5 lens
-Manual focus ring
-ISO sensitivity 200-3200
-Able to record 1280×720 pixel HD movies
Photography Blog ends up giving the A12 a "Recommended" rating with an overall score of 4 out of 5 possible stars. The module scores highest on design where it gets a top score, a little lower on image quality, features and ease of use while it scores lowest on value for your money. With a large image sensor and a fast lens this is the most serious module Ricoh has produces yet. If you are into street photography and willing to shell out a bit of money for the A12 this might be the module of your choice.
Read the full review of the Ricoh GXR A12 28mm lens-sensor module here.