Ricoh CX4 test / review by CNET UK – better image stabilization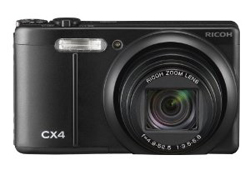 Ricoh CX4
CNET UK has reviewed a new compact digital camera from Ricoh. The camera is called Ricoh CX4 and features a back-illuminated sensor and 10.7x optical zoom. One major difference from the CX4 is that this Ricoh camera has improved image stabilization.
Some key features for the Ricoh CX4:
-10 megapixel back-illuminated image sensor
-10.7x optical zoom lens (28-300mm)
-Optical image stabilization
-3″ LCD screen
-720p HD video recording
-Autofocus system automatically tracks the subject
CNET UK ends up giving the Ricoh CX4 an overall score of 3.5 stars out of 5 possible. On the positive side we find aspects such as an useful zoom range, solid build, good value for your money and the LCD screen is great. There are a few negative sides that keeps the camera from getting a top score like noisy zoom operation, no zoom in movie mode, little or no hand grip and the reviewer does not like the way the camera looks. The CX4 is a pretty good camera, but has some quirks.
Read the full review of the Ricoh CX4 digital camera here.