Ricoh CX3 test / review by Photography Blog – digital camera with back illuminated sensor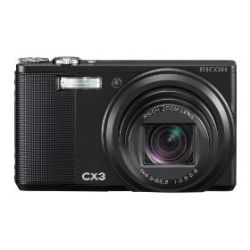 Ricoh CX3
Photography has reviewed the new Ricoh CX3 compact digital camera. This camera comes with a new interesting CMOS sensor that is back illuminated. Ricoh claims that this new sensor will give you better pictures. The camera also comes with a nice zoom range and a big 3″ LCD screen.
Some key features for the Ricoh CX3 camera:
-Back-illuminated 10-megapixel CMOS sensor
-10.7x optical zoom lens (28-300mm)
-3″ LCD screen
-High definition 720p video
-Uses SD/SDHC memory cards
Photography Blog gives the Ricoh CX3 a "Highly Recommended" score with 4.5 out of 5 possible stars. The CX3 scores highest on image quality, features and ease of use while scoring a little lower on design and value. Seems like Ricoh has produced a very nice camera, but in my opinion the lack of manual controls and RAW-mode is a bit of a let down. Hopefully that will be added with a Ricoh CX4 if it ever comes out.
Read the full review of the Ricoh CX3 digital camera here.