Pentax X70 super-zoom compact camera review / test by Photography Blog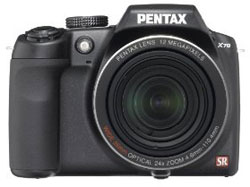 Pentax X70
Photography Blog has reviewed the first super-zoom digital camera from Pentax. The camera is called Pentax X70 has an impressive 24x optical zoom and a big 12 megapixel sensor. It remains to be seen if the X70 can produce pictures of good quality.
Some key features for the Pentax X70:
-24x optical zoom lens (26-624mm)
-12 megapixel sensor
-2.7″ LCD screen
-triple shake reduction
-Super Macro Mode for getting as close as 1 cm
-HD video at 1280×720 at 15 frames per second
Photography Blog ends up giving the Pentax X70 a "Recommended" 4 out 5 stars rating. The camera scores highest on design and features while scoring a bit lower on image quality and ease of use. Like most super-zooms you have to expect a few downsides when you get the massive zoom range and it is the same with the Pentax X70.
Read the full review of the Pentax X70 super-zoom camera here.